About Us
Blue Ginger is a Indian takeaway in Gloucester. Why don't you try our Vegetable Bhaji or Garlic Delight?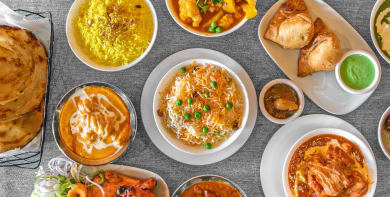 Reviews
247 reviews
Kelly-Marie
"Favourite indian takeaway in Gloucester and surrounding areas"
01/07/2020
Tom
"Excellent food plenty of it, delivered on time"
27/06/2020
Claire
"Really enjoyable and great portion size."
26/06/2020
hussain
"Delicious food .. Amazing customer service"
26/06/2020
Menu
King Prawn Puri
Dry, lightly spiced king prawns served on a pancake
£4.45
Masli Stuffed Pepper
Sardine flakes cooked with herbs & spices, stuffed in red pepper
£4.45
Lamb TIkka Jal Starter
Barbecued green chilli
£4.00
Meat Samosa
Lightly spiced lamb in pastry
£2.95
Mixed Kebab Starter
Chicken tikka, lamb tikka & seekh kebab
£4.00
Prawn Puri
Dry, lightly spiced prawns served on a pancake
£3.45
Seekh Kebab Starter
Spiced mince lamb grilled on skewers
£3.65
Mughlai Kebab Starter
Minced lamb stuffed with green pepper
£4.00
Tikka Starter Chicken
Off the bone
£3.45
Tikka Starter Lamb
Off the bone
£3.45
Tikka Chaat Starter Chicken
£4.00
Tandoori Hot Wings
Marinated wings grill in tandoori oven
£3.70
Tandoori Chicken Starter
On the bone
£3.75
Kodu Gosht
Lamb with butternut squash & medium strength spice
£8.15
Lamb Chop Bhuna
Medium spiced, tomato flavoured dish cooked with herbs on the bone
£9.95
Jaipur Chicken
A special mild creamy dish cooked with ginger
£7.95
Jaipur Lamb
A special mild creamy dish cooked with ginger
£7.95
Garlic Delight Chicken
Chicken OR lamb cooked in a mild almond & coconut sauce
£7.95
Garlic Delight Lamb
Chicken OR lamb cooked in a mild almond & coconut sauce
£7.95
Keema Kofta Bhuna
Minced meat with keema ball & medium spice sauce
£8.15
Chicken Chachila
Chat flavour, special red sauce with fried potato
£8.15
Chicken Roshoni
Special sauce garlic flavour
£8.15
Butter Chicken
Roasted chicken, mildly spiced, cooked with ground almonds, butter & cream
£7.95
Chazne
Medium spiced tomato flavoured dish cooked with special herbs
£7.95
Bangladeshi Fish Bhuna
Boneless fillets marinated in a special sauce & herbs
£7.95
Begum Bahar
Combination of chicken & minced lamb delicately blended together
£7.95
Shatkora Bhuna
A combination of spices fried together with medium strength onions, tomatoes & fresh herbs to produce a fairly thick sauce. Cooked with shatkora ( a bitter lemon vegetable from Bangladesh)
£7.95
Shordari
Medium hot dish cooked with special herbs & spices with fried garlic on top
£7.95
Mowchalk Chicken
Tender pieces of chicken OR lamb & prawn marinated in a section of spices, added to a delicious sauce, with honey, hence creating a flavour unique to the dish
£7.95
Mowchalk Lamb
Tender pieces of chicken OR lamb & prawn marinated in a section of spices, added to a delicious sauce, with honey, hence creating a flavour unique to the dish
£7.95
Mowhdu Bhuna Chicken
Chicken OR lamb, combination of medium spices, fried together with sweet honey texture
£7.95
Mowhdu Bhuna Lamb
Chicken OR lamb, combination of medium spices, fried together with sweet honey texture
£7.95
Naga Bhuna Chicken
Chicken OR lamb with a fine selection of delicate spice
£7.95
Naga Bhuna Lamb
Chicken OR lamb with a fine selection of delicate spice
£7.95
Nawabi Chicken
Tender pieces of chicken OR lamb cooked in charcoal, then stir fried with onion, capsicum & a selection of herbs & spices a special sauce then added with yogurt for extra medium hot taste
£7.95
Nawabi Lamb
Tender pieces of chicken OR lamb cooked in charcoal, then stir fried with onion, capsicum & a selection of herbs & spices a special sauce then added with yogurt for extra medium hot taste
£7.95
Pasanda Chicken
Chicken OR lamb cooked in cream, coconut milk & almonds
£7.95
Pasanda Lamb
Chicken OR lamb cooked in cream, coconut milk & almonds
£7.95
Sylheti Special
Cooked with diced chicken tikka & minced meat in an authentic mix of herbs & spices
£7.95
Tandoori Garlic Chilli Chicken
Fairly hot dish cooked with garlic, chilli & coriander
£7.95
Tikka Jalfrezi Chicken
Fairly hot dish cooked with green chillies, peppers, onions & garnished with coriander
£7.95
Tikka Jalfrezi Lamb
Fairly hot dish cooked with green chillies, peppers, onions & garnished with coriander
£7.95
Tikka Masala Chicken
Chicken OR lamb tikka cooked with special exotic herbs & spices blended together with yogurt, cream & coconut to give a delicate taste
£7.95
Tikka Masala Lamb
Chicken OR lamb tikka cooked with special exotic herbs & spices blended together with yogurt, cream & coconut to give a delicate taste
£7.95
Tandoori Mix Grill
Chicken & lamb tikka, shish kebab, quarter tandoori chicken & naan bread
£9.95
Spicy Tandoori King Prawn Main
£9.95
Kabooli Chana Main
Chickpeas
£5.45
Kabooli Chana Side
Chickpeas
£3.45
Mattar Ponir Main
Peas with cheese
£6.45
Mattar Ponir Side
Peas with cheese
£3.60
Aloo Gobi Main
Potato & cauliflower
£5.45
Aloo Gobi Side
Potato & cauliflower
£3.45
Dal Shamber Main
Sweet, sour & hot
£6.45
Dal Shamber Side
Sweet, sour & hot
£3.60
Sag Aloo Bhaji Main
Spinach & potato
£5.45
Sag Aloo Bhaji Side
Spinach & potato
£3.45
Sag Ponir Main
Spinach with cheese
£6.45
Sag Ponir Side
Spinach with cheese
£3.60
Blue Ginger Special Mix Biryani
£10.50
Vegetable Garlic Delight
Roasted fried potatoes, cauliflower, mushroom with diced fried onion, capsicum, cashew nuts, cream mild spices with fried garlic. Mild & creamy with garlic flavour
£6.95
Vegetable Zafrani
Mixed vegetables cooked with a selection of mild herbs & spices in a special sauce added with almond powder, fresh cream & a touch of lime juice for extra flavour. (Mild creamy with tangy taste)
£6.95
Vegetarian Zafrani
Mixed vegetables cooked with selection of mild herbs & spices in a special sauce, added with almond powdered, lime juice for extra flavour, mild creamy for extra taste
£6.95
Myisti Sabzi
Mixed vegetables cooked with onion, capsicum in a sauce made with fresh cream almond & coconut powdered honey, authentic & exotic spices & herbs creating a mild & never forgotten taste
£6.95
Nokshi Sabzi
Mixed vegetables cooked with onion, capsicum, herbs & spices green chilli coriander garlic fenugreek & mixed pickle of mango, chilli & lime, to get an authentic taste & flavour. (Fairly hot & tangy pickled flavour)
£6.95
South Indian Vegetables
Fresh spinach potatoes, aubergine & okra cooked with fresh green chilli coriander garlic flakes excited herbs & spices, coconut & fried diced onions. (Fairly hot with garlic flavours)
£6.95
Sabzi Jalahle
Mixed vegetables added to fine sauce made from special spices & herbs imported from Bangladesh stir fried with green chilli tomato cashew nut & fine pieces of orange skin, to create a delicious taste. (Fairly hot & spices with a hint of orange)
£6.95
Sabzi Mali
Mixed vegetables cooked with fresh honey, cashew nuts & our own made yogurt to create a delicate taste
£6.95
Labra
Aubergine, okra & spinach cooked in a spicy tangy lentil sauce. One of the best selling sauce
Medium
£6.95
Pickle Tray
Onion salad, mint sauce, lime pickle, mango chutney & red onion
£2.50
Special Red Chips
Onion, peppers & red sauce
£3.45
Bottle of J20 Apple & Mango
£2.25
Bottle of J20 Apple & Raspberry
£2.25
Bottle of J20 Orange & Passion Fruit
£2.25
Pick & Mix Meal Deal For 1 Person
Poppadom
Choice of starter
Choice of main meal
Choice of naan OR sundries
£12.95
Pick & Mix Meal Deal For 2 Persons
2 x Poppadoms
Choice of 2 x starters
Choice of 2 x main meals
Choice of 1 vegetarian side dish
Choice of 2 x naan OR sundries
£24.95
Pick & Mix Meal Deal For 3/4 Persons
3 x Poppadoms
Choice of 3 x starters
Choice of 3 x main meals
Choice of 2 x vegetarian main dishes
Choice of 3 x naan OR sundries (please write your chosen naan OR sundries in the comments box)
£37.95
Saag Aloo Balti
Spinach & potato
£6.50
Saag Balti - Chicken
Spinach
£6.50
Special Mix Balti
Chicken, lamb, prawn with our special balti sauce
£6.50
Vegetable Balti
Mixed vegetables
£6.50
Kids Korma Sauce with Chips
£4.50
Kids Masala Sauce with Chips
£4.50
Madras Chicken
Fairly hot
£6.25
Madras Chicken Tikka
Fairly hot
£7.95
Madras King Prawn
Fairly hot
£8.95
Madras Lamb Tikka
Fairly hot
£7.95
Madras Vegetable
Fairly hot
£6.25
Ceylon Chicken
Coconut
Fairly hot
£6.95
Ceylon Chicken Tikka
Coconut
Fairly hot
£7.95
Ceylon King Prawn
Coconut
Fairly hot
£8.95
Ceylon Lamb
Coconut
Fairly hot
£6.95
Ceylon Lamb Tikka
Coconut
Fairly hot
£7.95
Ceylon Prawn
Coconut
Fairly hot
£6.50
Ceylon Vegetable
Coconut
Fairly hot
£6.50
Dansak Chicken
Lentils
Sweet, sour & hot
£6.95
Dansak Chicken Tikka
Lentils
Sweet, sour & hot
£7.95
Dansak King Prawn
Lentils
Sweet, sour & hot
£8.95
Dansak Lamb
Lentils
Sweet, sour & hot
£6.95
Dansak Lamb Tikka
Lentils
Sweet, sour & hot
£7.95
Dansak Prawn
Lentils
Sweet, sour & hot
£6.25
Dansak Vegetable
Lentils
Sweet, sour & hot
£6.25
Vindaloo Chicken
Very hot
£6.25
Vindaloo Chicken Tikka
Very hot
£7.95
Vindaloo King Prawn
Very hot
£8.95
Vindaloo Lamb Tikka
Very hot
£7.95
Vindaloo Vegetable
Very hot
£6.25
Pathia Chicken
Sweet, sour & hot
£6.95
Pathia Chicken Tikka
Sweet, sour & hot
£7.95
Pathia King Prawn
Sweet, sour & hot
£8.95
Pathia Lamb
Sweet, sour & hot
£6.95
Pathia Lamb Tikka
Sweet, sour & hot
£7.95
Pathia Prawn
Sweet, sour & hot
£6.25
Pathia Vegetable
Sweet, sour & hot
£6.25
Curry Sauce (Large) Korma
£5.45
Curry Sauce (Large) Madras
£5.45
Curry Sauce (Large) Masala
£5.45
Curry Sauce (Large) Vindaloo
£5.45
Curry Sauce (Small) Korma
£3.45
Curry Sauce (Small) Madras
£3.45
Curry Sauce (Small) Masala
£3.45
Curry Sauce (Small) Vindaloo
£3.45
Contact Us
Find Us
72 Bristol Road, Gloucester, GL15SD
We deliver to
GL1, GL2, GL3, GL4